MIET is the visionary in the space of Testing and Assessment.  We provide robust assessment services to all educational institutes, Training organizations, Government programs in various sectors skills. Type Of Organization, Background of the Organization with reference to its experience Expertise in the Field of Assessment of training Workforce,Testing & Certification of its Legal Standing with respect to its registration, details of its Promoters including their Background. Methodology Of Assessment Policy with regards to recruitment, retention and development of Assessors
OBJECTIVES OF THE ORGANIZATION
Play a vital role in skill building to enhance employment in the country.
Create a healthy exchange of experiences and knowledge to create a complete learning experience for students and candidates with special focus to practical knowledge, so that they are better prepared to become key contributors to the industries.
Become a preferred people partner to the industry, by ensuring active collaboration and understanding of industry requirements, and creating and assessing skills to maintain high quality workforce, give, feedback and input on training to correspond with emerging trends and build and continue a comprehensive assessment system.
Collaborate with industry to conduct effective learning and assessments for the candidates to help build a strong organization to help deserving candidates achieve widely accepted
Operate in an environment that is inclusive, non-discriminatory, respectful and conducive to the nurturing of skills and competencies
Why MIET Conducts a Training Needs Assessment?
To determine what training is relevant to your employees' jobs,
To determine what training will improve performance,
To determine if training will make a difference,
To distinguish training needs from organizational problems, &
To link improved job performance with the organization's goals and bottom line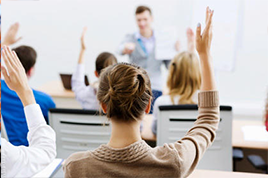 We go by need assessment and need analysis. The terms are interchangeable, but they have the same meaning and purpose…
MIET has very huge network of employment agencies and consulting firms. Who are pioneer in placing…